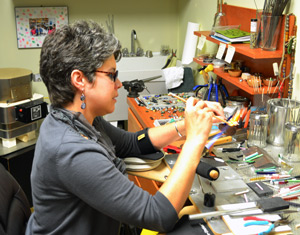 I've always had the desire to create, but could never find an art medium that really captured my attention for long. That changed about nine years ago when I took a lampworking class on a whim. In a matter of hours, I was completely hooked on the process (once I got past the fear of burning myself).
Lampworking is also called flameworking or torchworking, because modern bead makers no longer use oil-fueled lamps. In lampworking, the artist melts rods of clear and colored glasses with a gas-fueled torch, creating figurines, ornaments, beads, and other small pieces of art.
When I first started making beads, it wasn't long before I'd filled a small bowl with my creations. My husband asked me what I planned to do with all of the beads, and at first I really wasn't sure. I remembered a simple wire necklace with a pottery pendant that I had purchased a few years prior, and decided I could make necklaces similar to this with my beads. My first pieces became gifts for friends and family. Later I was able to sell my jewelry at a boutique in Uptown Greenwood, thanks to Elisse Sorrow, who saw the potential in my work.
With the help of online tutorials, books and jewelry magazines, I taught myself basic jewelry making, as well as some more advanced glass bead making techniques. I continued making jewelry as a hobby and sold pieces through local retail outlets. In 2009, my husband opened Meridian. a collective of working artist studios and retail spaces, in Uptown Greenwood. I was able to move my bead making operation off of the dining room table and into a working space where I could create, display, and sell my pieces.
The lampwork process begins with rods of clear and colored glass.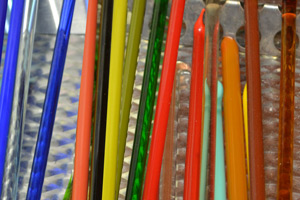 To make a bead, molten glass is wrapped around a coated steel rod to form a base bead.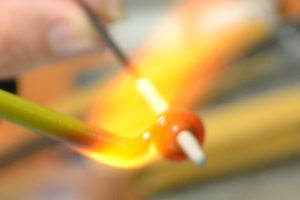 Patterns are created using additional colors of glass.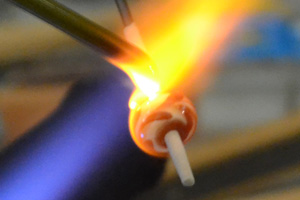 Sometimes tools are used to further manipulate the shape of the piece.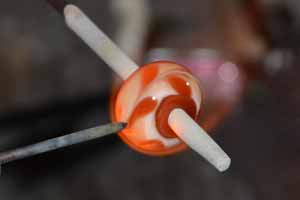 A bead can take as little as 5 minutes, but some take 30 minutes or more to create, depending on the complexity of the pattern and the size of the bead. All of my beads are kiln annealed to reduce the stresses caused by repeatedly heating and cooling the glass when creating them. Each bead is like a tiny piece of art.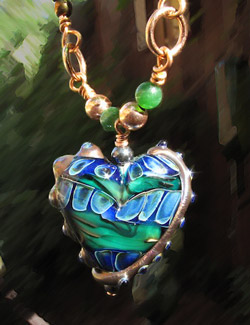 I try to keep a variety of pieces in my studio, from simple earrings and necklaces to much more elaborate pieces. I get easily bored with repetition, so all of the pieces in my studio are truly one-of-a-kind. I really enjoy working with my customers on special commission pieces, and try to involve them in the design process as much as possible. Some of my favorite commissions have been customer requests for me to combine my beads with one or several pieces of their old jewelry to create something new and unique.
I've really enjoyed this new phase of my life—working this way has allowed me to spend time with my daughter, and I now have an outlet for all of that creative energy swirling around in my head.
Lori Holloway
Lampwork Designs
for commissioned work, call (864) 992-7517
Jewelry available for sale at:
Uptown Pizzazz
308 Main St. Greenwood, SC 29646
photo credits
jewelry samples: Lampwork Designs
studio shots: Greenwood Times