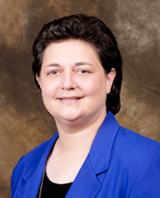 Dr. Lisa Brodhacker
Celestial Science
by Connie Terpack
Merely one block away from the busy main thoroughfare, nestled among gently rolling green hills, covering a 100-acre campus, sits Lander University in Greenwood, SC. Lander has approximately 138 full-time faculty. Dr. Lisa Brodhacker, an impressive, humble professor, is busy teaching chemistry and making mirrors. Not the ordinary mirrors that one uses to view one's reflection, nor the kind used on the side view mirror on your vehicle which annoyingly distort the distances of objects. These mirrors are for communicating through space.
Although the original idea is not hers, the lightweight epoxy mirror project was transferred to Lander, under Professor Brodhacker's guidance, about three years ago. The professor and some of her students are working with NASA's (National Aeronautics and Space Administration) Jet Propulsion Laboratory to develop the mirrors for near-Earth and deep-space laser communications. The epoxy mirrors are lighter, more durable, and take less time to manufacture than glass ones. These mirrors are being used on the ground to collect data via laser, and not in outer space. However, she is collaborating with a professor from the University of Hawaii's Institute for Astronomy who will be making a different type of mirror that can be used in outer space. "Once the surfaces are cured, our mirrors are ready for laser communications, but they're not accurate enough for imaging telescopes. That will come later," says Dr. Brodhacker.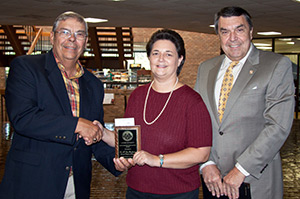 Dr. Brodhacker Receives the Alston Award
This project has brought much attention to Lander University, Dr. Brodhacker, and her students. Seven of her students have presented their research at conferences, and several have published papers and will have chapters with Dr. Brodhacker in the book Meter Class Astronomy I, which will be published soon. In 2010, Dr. Brodhacker entered the mirrors in the Launch Pad competition sponsored by the Spiro Institute for Entrepreneurial Leadership at Clemson University. Out of 64 entries, she won an impressive second place, and $1,000. On September 24, 2012, Dr. Lisa Brodhacker was presented the prestigious Mary Francis Poole Alston Award by SCETV host Rowland P. Alston (on left in the picture; Lander President, Dr. Daniel Ball, is on the right). Mr. Alston is the host of the Emmy-winning SCETV horticulture and gardening show "Making It Grow." The Mary Francis Poole Alston Award is presented to staff or faculty for providing visibility for Lander University throughout the state of South Carolina, the United States, and the world.
There will be more visibility for the university when Dr. Brodhacker and two of her students present their research at the Southeastern Regional Meeting of the American Chemical Society in Raleigh, NC in November, 2012. In June 2013, about fifty astronomers and engineers from around the world will descend upon Lander University for the first Lander Lightweight Mirror workshop, part of the Alt-Az Telescope Initiative for Lightweight Optics. "Alt-Az" are the first few letters of the words altitude and azimuth, which describe the position of a telescope or antenna tracking celestial bodies.
Dr. Lisa Brodhacker started working at Lander in 2006, and is now a tenured Associate Professor of Chemistry. She is the daughter of missionary parents. Her father was the Southeastern Regional Director of United Indian Mission. His missionary assignment kept them in South Carolina for the most part. They visited a few foreign countries like Canada, Peru and Mexico, but her favorite trip was to the Havasupai Indian Reservation at the bottom of the Grand Canyon. After her father passed away, she and her mother lived in Arizona for a few years before returning to South Carolina.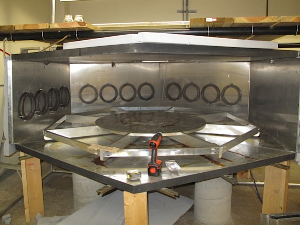 An Epoxy Mirror in the Curing Oven
I asked Lisa what her childhood dream was, curious if she had a desire to reach for the stars as a youngster, and if she had always been a "science geek". Her answer surprised me. "I wanted to be Tom Brokaw." For those of you who need a memory jogger, Tom Brokaw was the News Anchor for NBC Nightly News until 2004 when he retired from full-time broadcasting. "I wanted to take his place because I loved newscasting." Lisa did work as an announcer for WGNR in Grand Rapids, MI for a short while when she was in college, but I think Lander is happy that she reconsidered her career choice. Dr. Brodhacker continued to explain that while working as a secretary in a Christian school she discovered that she enjoyed teaching, and went to Piedmont Baptist College in Winston Salem, NC, to obtain her Bachelors in Education. After teaching for a few years she found an affinity for science, which led her to the University of South Carolina to obtain her doctorate in chemistry.
Dr. Brodhacker is listed in Who's Who Among American Professors, 2010. She is also a NIAC Fellow. This honor is given to people who have a proposal awarded by NASA's Institute for Advanced Concepts. The professor qualified since she is a co-investigator with the University of Hawaii on a granted proposal to produce mirrors for space telescopes.
Lisa says she enjoys "leading a quiet life"—walking in the woods with her two dogs (both Labs), gardening and reading. She sings in the choir at Calvary Baptist Church in Greenwood, and teaches one of the ladies' Sunday School classes. She manages to find time to volunteer with her students through the American Chemical Society Student Group. They present chemistry demonstrations to area schools several times a year and have helped at the Greenwood County Animal Shelter, Habitat for Humanity, and Connie Maxwell Home. Most importantly, she is a Gamecocks fan!
She offered her thought for the day: "Traveling to other parts of the world—and usually they were poorer areas—I was able to see how little one needed to live a happy life. It made me realize how blessed I am to live in America. We have way too much "stuff", but I am thankful for what I have and grateful for God's blessings on my life. One of my pastors once told me to work hard as though everything depended on me, but to pray hard because the truth is, everything depends on God."