June - October, Wednesday and Saturday, 7a.m. to noon. 1612 SC Hwy 72/221(Laurens Hwy)
A Stroll Through the Farmers Market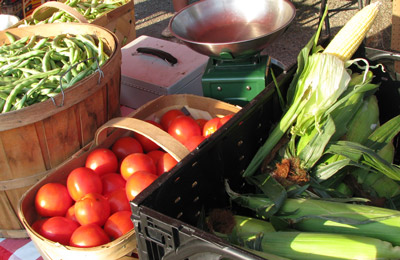 Judy's Dixie Delights
Whether in a big city, a small town, or on the side of the road, open air food markets have that certain something you can't find anywhere else. Not only do farmers markets support local growers, they also bring the broader community together. They're a place to enjoy both shopping and local culture. The colorful combination of fresh picked fruits and vegetables, offered at reasonable prices, gives shoppers lots of choices to enjoy summer's bounty. The Greenwood Farmers Market is just that kind of place, an enticing combination of commerce and easy-going southern lifestyle.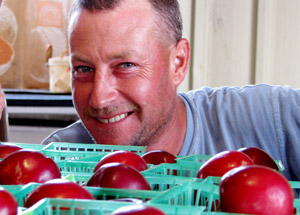 Joe Smith
There's no hurry as customers stroll by tables, chatting with friendly and knowledgeable vendors and occasionally bumping into other people they know. Strangers also share tips with each other, and there is always something to learn about growing, cooking, canning, or freezing. All you have to do is ask. This morning, one shopper is telling another how to make the most of some deep purple beets with the stems and leaves intact. "I like to cook the greens too. I cook them separately from the beets. They have a good taste. When I was growing up, we ate the greens and the beets and then drank the juice!"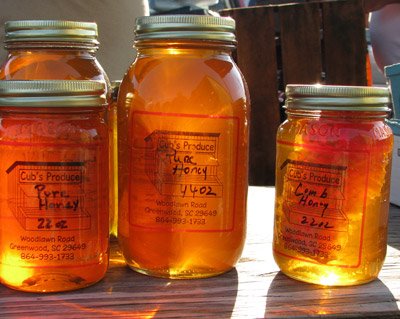 Honey from Cub's Produce
Seasonal fruits and veggies aren't the only offerings at the market. There are gorgeous cut zinnias, local honey, handmade soap with healthy, natural ingredients (they smell so good), and grass-fed beef (yes, it tastes better). You can also buy a delicious take-home snack, hot freshly-boiled peanuts straight from the kettle. These are ladled up by former county agent Carroll Culbertson, who has participated in the Farmers Market since its beginning. In addition to boiled peanuts, he offers honey, fresh blueberries, tomatoes, and a variety of home-canned jams and relishes, among other items. (See our feature on boiled peanuts for a picture of Carroll and his peanut rig.)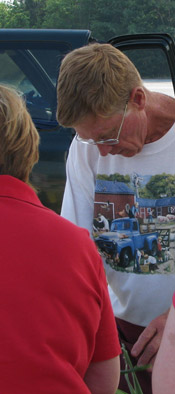 Steve
Culler
Some of the other vendors have also been coming here for many years, and they have good stories to tell. Steve Culler, of Victory Knoll Farm, grows and sells a variety of pesticide-free fruits and vegetables, and has been at the market 29 years. He remembers the early years and "blackberry wars" with Culbertson, where the two engaged in friendly price-cutting competition. He also reflected on some changes over the years. For example, there are not as many customers canning and freezing as there used to be. "When someone bought several dozen ears of corn, you knew it was going in the freezer. There just aren't as many people doing that anymore, but nothing compares to the taste of fresh summer corn (that's been put up for winter)." He also commented that plant and flower farming has taken a hit because of the rising cost of propane used for heating the greenhouses. For that reason, Culler and others who once sold hanging plants and flowers at the market now focus primarily on produce.
--continued on page 2--