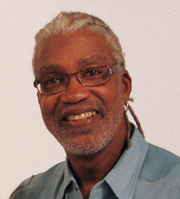 Adventures in Humanity

George
Ligon




Lenscapes

: Australia | Fiji | New Zealand

by Susan Fennell

He's an artist, a photographer, and a world traveler. I had the privilege to become acquainted with George Ligon recently during a lunch interview at Polo's in Uptown Greenwood. By the time we sat down to chat I was already familiar with some of his work, having just participated in a tour at the gallery where his photography exhibit, Lenscapes, is displayed. Mr. Ligon had been our guide and it was meaningful to hear from the artist himself as our group moved from piece to piece. Each captured moment held an adventure as colorful as the photograph itself. He skillfully told these stories to visitors from The Burton Center and their chaperones. (The Burton Center is a local facility serving people with mental and physical disabilities.) As I enjoyed the stimulating exhibit, I was touched to observe some of the happy, interested faces in our group. And I saw another face – George Ligon, a generous teacher.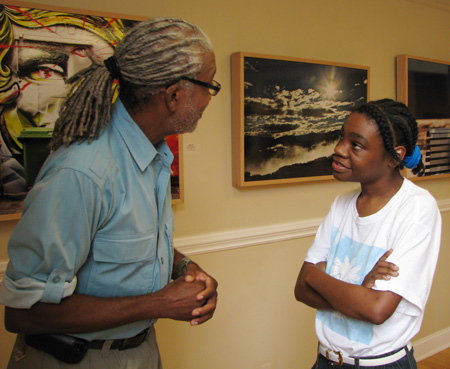 George and Stephanie
Mr. Ligon is involved with the Burton Center through the Lander Therapeutic Horseback Riding Program, where he volunteers. The riding sessions, called hippotherapy, help with balance and other physical needs, and provide additional benefits such as confidence building and, of course, riding pleasure. He trained to work with the students, and his job is that of a sidewalker, which involves positioning his arms to support the rider, among other things. "When I began this work with the students, it was because I wanted to give back to our community in a meaningful way. What I soon found out was that I was getting more from them than I was giving. The students are friendly and humorous, and I enjoy them."
Although he seemed a little disappointed that his riding friends were unable to attend the gallery tour, the participants (about twenty), were very motivating for our presenter. He gave informative, animated, and often funny narratives.
"You know it's REALLY cold outside when the ice is blue", he said about a glacier in New Zealand.
"This reminded me of the movie King Kong", he said, about a picture entitled "Jungle Moss". I could see why.
We saw the site of the first bungee jump, and one participant in a wheelchair chimed in, "You can get really hurt doing that."
He shared the tips he'd learned for riding a camel as he showed us a photograph from Australia. It was an amusing picture and I felt as if I'd learned something useful, even though I may never ride a camel.
There were descriptions of Aborigine people and Maori warriors, both ancient and modern. "This is where tattoos came from", he said, pointing to his photo of a Maori man with facial tattoos. "They used to try to make themselves look fierce, to scare away other tribes. Now many of them still get facial tattoos because it's part of their tradition." He said the first time he saw a Maori "warrior", at an airport, it was scary to see this man approaching him. Then as he passed by, he looked at George and said, "How are you today, sir?"
Perhaps the most chuckles were heard when Mr. Ligon told us about sneaking to capture the photo of an Aborigine gentleman on a bench in Australia.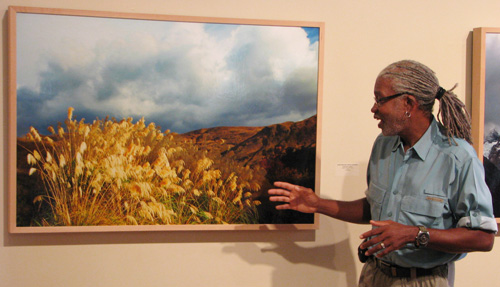 "I took this picture from a tour bus traveling about 50 miles an hour."
When the visitors departed, he accompanied them to say good-bye and to assist in their boarding of the buses. Some of them smiled and said that they liked being at the Arts Center.
Later at the restaurant, I asked Mr. Ligon if he had a message for our readers. He replied that he'd like to see more people "come to see us", to feel free to walk into the Arts Center off the street, "in their work clothes, boots, or whatever, and enjoy art." He'd also like to see more group visits, and youth. (He had another tour planned for a church youth group.) He added that Arts Center membership also has advantages.
Driving away to another appointment, I thought about the surreal mood of this exhibit, with its many images of far-away places. And then I reflected on the tour, and was grateful to have experienced something important -- something that felt very real.
George Ligon's current exhibit, Lenscapes: Australia | Fiji | New Zealand, will be on display at The Arts Center in Uptown Greenwood until August 31st.