Lander Female College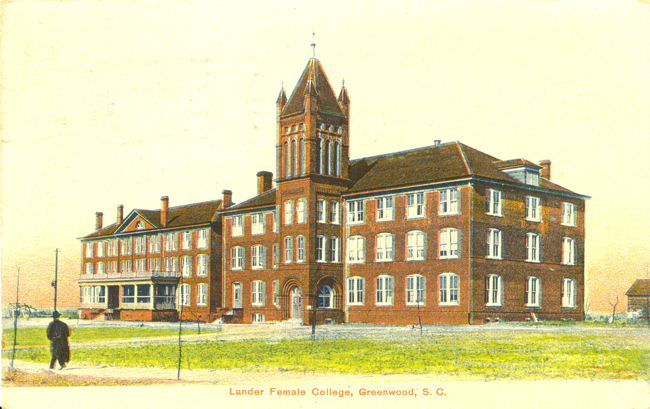 Shortly after the turn of the century, Dr. Samuel Lander, who founded Williamston Female College in 1872 and remained its president, began looking for another home for his institution. The goal was to expand and secure greater public support to ensure that the school remained successful. At the same time, Greenwood officials were actively seeking the addition of a college to the town's growing portfolio of amenities. Under the enthusiastic leadership of C.A.C. Waller, Greenwood's first state senator, a deal was made and the school moved from Williamston, South Carolina, to Greenwood. It reopened in 1904 as Lander College.
---
Sometimes the messages written on these cards can be as interesting as the pictures. This one, sent to Emma Gross in St. Louis, was written in September of 1908 by Lander student Carrie K.
"Dear Emma,
How do you like the looks of my new home? I am well pleased with my surroundings and hope to have a good year. Hope you had a good trip. Tell me all about it. There are over 100 girls here. Write soon. Love to all.
Carrie K."
I have a lot of old postcards, but this one in particular always gives me a feeling of melancholy curiosity about its author, a young woman at the beginning of her life's journey, far from home but looking forward to the adventure with optimism and excitement. Now, over a hundred years later, the journey has been made and Carrie is gone from this world.
I hope she had a good year, too.
---
Next: back downtown for a closer look at some familiar landmarks.