The Rock House (part 2) - Page 2
In 1868, John Robert Tolbert, who three years earlier had sewed as captain in the Confederate Cavalry, decided that change could not be made through fighting the existing political regime. He thought improvement would have to come from within it. With this in mind, he joined the Republican Party. Although he had considered the logic of his decision and thought it the best way to make his contribution in bringing order to the chaos which reigned in South Carolina, many of his neighbors saw it as defection to the enemy.
When he became Republican, John Robert allied himself with members of the ruling party who wanted to make changes which would be advantageous to the state. One of these men was Daniel Chamberlain, who became governor in 1876, with John Robert Tolbert on the ticket as State Superintendent of Education.
The election of 1876 proved to be a bomb shell. Republicans celebrated the election of their candidate, Chamberlain, as governor. Democrats, too, claimed victory for their man, Wade Hampton. For a time, South Carolina had two governors. With two sets of state government, South Carolina was in turmoil. Realizing the detriment of the situation to the state, members of Chamberlain's cabinet, including Superintendent of Education Tolbert, wrote Chamberlain a letter urging him to concede to Hampton. He followed their advice.
When his father joined the Republican party and began his political activity, Tom Tolbert was nine years old. Two years later, his mother died. When the family returned from the funeral, the house had burned. Perhaps the fire was an expression of his neighbors' dissatisfaction over John Robert's affiliation with the Republican Party.
Tom Tolbert and his brothers, Robert Red and Joseph Warren joined their father in the Republican camp. They supported his efforts to educate black people, and they believed in the enfranchisement which had come to the Negro race after the War Between the States.
When the new state constitution of 1895 imposed requirements which effectively made it impossible for a black person to vote, John Robert decided that someone should challenge the constitution. In 1898, with his son, Robert Red, on the ballot as a Republican candidate for United States Congress, the elder Tolbert stationed Tom on the porch of the voting precinct, Watson's Store. When blacks were turned away from the official ballot box inside, Tom asked them to deposit a mock ballot in a box on the porch. Members of the community disagreed strongly with his measure, and Giles 0. "Bose" Ethridge ordered Tom to remove the box. He refused. A fight ensued, with disagreement later over who struck the first blow. A shot was fired from the crowd which had gathered, and Bose Ethridge was killed. The violence and terror which began over this incident at Watson's Store would spread throughout the county and the state and would be felt for many months. In history, the ordeal would become known as the Phoenix Riot.
Injured badly, Tom lay in bed at his brother Elias' home. Angry and thinking Tom knew who shot Bose Ethridge, a mob of men went to the house to get him. When they asked for Tom, his aunt, Nancy Ann Tolbert, known as Ann, told them that he was very sick and could not be disturbed. Furthermore, he did not know who had shot Ethridge. In their rage and determined to find the murderer, the men dragged Ann through Tom's room by her hair, trying to get Tom to talk. Not knowing himself he could not give them an answer.
The same night, hands stood guard around Robert Red Tolbert's house to save it from being burned. The Phoenix community was angry, and any Tolbert connected with the Republican Party was their target.
Robert Red, known to his family and friends as Rid, would not lose his house in 1897, but a fire would claim it in 1904. Many years later, his son, John Robert Tolbert, remembered his father's shoving a trunk through a locked bedroom door to get his wife's uncle, who could not hear his shouts, out of the burning house.
Knowing of the violence and fires which plagued Tom and his family, one can understand why the man would have a horror of fire. He and his family had lost more than would seem to be their share of homes to flames. To make the point bluntly, a piece of land the family owned was known as the Burnt Place.
Finally, Tom decided to build a house that would not burn. He intended to have a safe place to store family treasures that meant much to him. Chief among these were the Bible for which Nancy Red had woven a striped cover from her first crop of flax grown after her migration to this country and the spinning wheel she had brought from Ireland.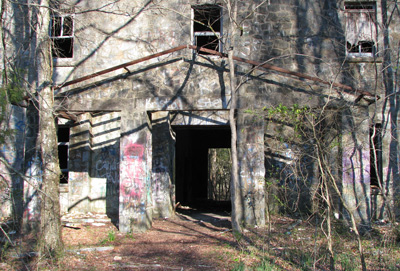 He began on August 22, 1922. Hands quarried stone on the place and hauled it to the house site in two-horse wagons. Put in place, these stones formed walls that were eighteen inches thick and rested in a three-foot trench. The floors, upstairs and downstairs, were made of eighteen inches of concrete strengthened with steel. Egyptian tile, an iron staircase, and steel window frames and doors were shipped to New Market by rail and hauled by oxen to the house. When workmen finished in 1926, Tom Tolbert had a house that would not burn. A piece of wood in the lock was the only piece of flammable material in the house's structure.
The house was symmetrical, with two rooms on each side of a wide hail upstairs and the same arrangement downstairs. Two chimneys ran through the center of the house to provide a fireplace for each room. To tempt even less the fires that seemed to follow him, Tom did not include a kitchen in the main house. Cooking was done in a small cabin in the back. The Rock House, a name which evolved for it, was not a mansion, but it was large and strong and fireproof.
Continued on next page.