The Rock House (part 2) - Page 3
Sure that they were safe from fire, Tom moved his family's keepsakes into the Rock House. He himself remained in the cook shack. He said that he would move into the big house if he could get his books and papers there without disturbing them, but neither he nor they moved from their home in the cabin.
When people came to visit, Tom enjoyed showing them through the Rock House. He welcomed even curious strangers. Two of his great nieces, Nancy Red and Emmiline Payne Tolbert, remember sleeping in the house when they as children spent time with him in the summer. For himself, though, the little house in the back was fine.
Tom Tolbert was a modest man, as his choosing to live in the cook shack indicates. People who knew him, however, could see mingled with his humility numerous accomplishments. In his lifetime, he had inherited or bought thousands of acres of land. Perhaps even greater were his intellectual holdings, especially family history and local lore. He knew his own family's background, and he could tell other people about theirs. His keen memory stored volumes of local history which he could recall to the end of his days.
For a glimpse of his personal side, a paragraph from his obituary is informative.
A man of very reserved temperament, Mr. Tolbert was content to live a retired life, occupied with his own affairs and in his later years rarely left his home. He appreciated visits from old friends and loved to talk about the people and events of the past. To his old friends he revealed a character intensely individualistic and yet quite sympathetic with the welfare and interest of those he knew well.
Members of his family loved Tom Tolbert. A nephew, John Robert Tolbert, wanted to name his newborn daughter for his uncle. Her mother, however, vetoed the choice in favor of a more feminine name. After a compromise, the new baby got a feminine first name: Emmiline. In the middle name, Tom Tolbert took his place. From his Thomas Payne Tolbert, she became Emmiline Payne Tolbert.
John Robert Tolbert was the person who took care of Tom in his later years. Always a small man, Tom had been wounded badly in the election-day trouble at Phoenix in 1898. In 1918, a boar had hurt him severely as he tried to drive the hog from a pen. His injuries and old age had left him in frail health.
In the end, neither injury nor fire but freak accident killed him. Customarily, he took an eggnog every afternoon. One day in September, 1940, Tom enjoyed his usual refreshment with his brother, Joe, who was visiting him. The whiskey in the eggnog was bad. As a result, both brothers became very ill. Joe, who was six years younger and more robust, recovered, but Tom succumbed. He was eighty-two years old. Three days before his death on September 17, 1940, he had been taken into the Rock House.
When he died, Tom's land, including the Harris Place, where the Rock House stood, became the property of his only living brother, Joseph Warren Tolbert. He died in 1946. At his death, Joe's son, Joseph Lincoln Tolbert, Sr., inherited the Rock House. Neither brother nor nephew lived in the house.
With Tom no longer there, trespassers made their way into the house. Being unusual, it was well known in the area and it seemed to attract people. It became a haunt for passionate forays between hot blooded youngsters and a hangout for illicit drinking and initiation into other drugs. In the early 1960's, members of John Robert Tolbert's family visited the house and found the staircase propped against an outside wall. Within a few years, windows were broken out, doors were removed, tiles were torn from the roof, and graffiti plastered the walls. Today, the house stands in ruins.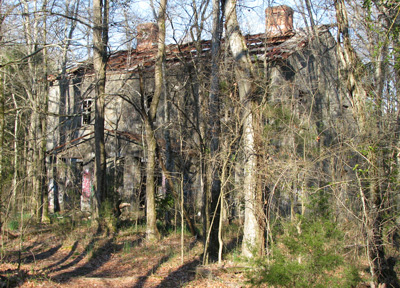 Looking at the house now, one can understand how legends could grow up around it. Some people claim that treasure is concealed within the walls of the house. This story is only true in that the house was built to protect family treasures, things that had been handed down in the Tolbert family. These mementos vanished many years ago. Other people say that Tom built the house for a beloved wife who died. After her death, he found living in the house unbearable and moved to the cook's house in the back. The truth of this story is that Tom Tolbert did live in the cook's house behind the Rock House, but grief over a dead wife did not drive him there. He was a life-long bachelor. Messages scribbled on the wall, reading, "Mr. Tolbert is watching you," are entirely untrue. Tom Tolbert's earthly remains rest in the cemetery behind Rehoboth Church, with his family. Loving family as he did, surely Tom would visit relatives if he made appearances after his death. To date, however, none have heard from him.
The Rock House has sent imaginations soaring and inspired fascinating ghost tales. The true story of the house and the man who built it can hold an audience, too. It is the story of a family's determination to worship as they pleased; a story of their struggling with issues that rent a nation; a story of men and women holding firmly to their values even when their friends and neighbors took a different stand; a story of a man's loving his family and the things they held dear. The true spirit of the Rock House is not a specter. It is the spirit of courage and conviction.
Originally published in 2006 by the Greenwood County Library as part of their local history series. Reprinted with permission of the author.