Dr. Tomiko Brown-Nagin: Social Reform and the Law
by George Ligon, Jr.
On September 13, 2012 I had the pleasure of attending a lecture given by Dr. Tomiko Brown-Nagin at Lander University's Josephine B. Abney Cultural Center auditorium. When I saw the advertisement for this event, I was not only intrigued by the topic, but also by the title of her book, Courage to Dissent: Atlanta and the Long History of the Civil Rights Movement. What I took away from her lecture was much more than a historical dialogue of the events of the time.
As an African-American northeasterner, I was acquainted with the events, struggles, and legal challenges of Jim Crow laws, segregation, and inequality in southern society, even though I hadn't experienced them firsthand. My parents did, though. Through their recounting of their experiences and my own studies, I became aware of the conditions of that time, as well as the heroism of those who fought against them, whether in the streets through peaceful protests, or in the courts.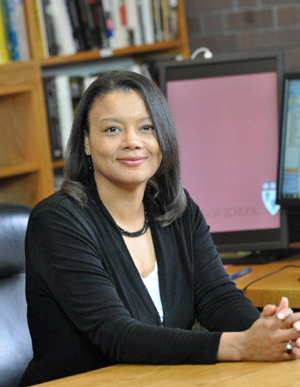 "Old friends and students at Greenwood High attended the lecture and told me that they were inspired by the path I've traveled. I'm honored by those comments; I'm pleased to be considered a positive role model."–
Tomiko
Brown-Nagin
Dr. Brown-Nagin was introduced as a native of Greenwood, South Carolina, having graduated from Greenwood High School in 1988. Her attractive and youthful appearance disguises the many accomplishments of her career. Dr. Brown-Nagin has received a bachelor's degree in history from Furman University, a master's degree in U. S. political and social history from Duke University, a law degree from Yale University, and a doctorate in U. S. social, political and legal history from Duke University. She was a professor of law and history at the University of Virginia and an associate professor of law and history at Washington University in St. Louis. She is currently a professor of law at Harvard University, and a professor of history at the university's Graduate School of Arts and Sciences.
To say that Dr. Brown-Nagin is driven would be an understatement. The catalysts that prepared her for these achievements began at home with the love, support and encouragement of her parents, Willie J. and Lillie C. Brown. Dr. Brown-Nagin stated that her parents placed emphasis on the pursuit of education. "They always encouraged me to perform well, and they had consistently high expectations of me", she responded when asked about her parental influences. When asked further about any defining moment early in life that set her on the path she has chosen, she stated that her father gave her an awareness of the educational consequences of the Jim Crow laws and what it was like for him growing up under those laws. Her parental influence not withstanding, she also gave credit to an early mentor, her Greenwood High School eighth grade AP history teacher, Mrs. Beth Pinson, as well as other teachers from high school and Furman University.
When asked about her experience growing up in Greenwood, she explained, "Growing up in a small town helped me understand how local people experience national policy." Greenwood, like so many other southern cities, experienced tremendous social change as a result of federal laws and policies enacted during the 1960's, just before Dr. Brown-Nagin was born.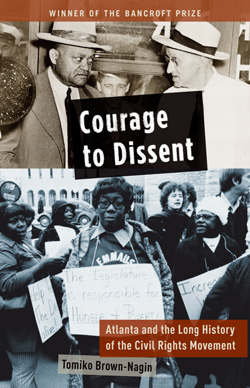 Courage to Dissent
won the esteemed Bancroft Prize. Ethel May Mathews is shown on the front cover. Dr.
Brown-Nagin
acknowledges this woman's courageous efforts in the Civil Rights Movement."Ethel was the daughter of a sharecropper. She inspired other women to challenge authority and push for school integration, for the sake of their children, and she openly criticized others in the movement who ignored economic disadvantage. Although not formally educated, she confronted highly educated persons in the courts. Ignoring conventional wisdom, she became a political agent of change under difficult circumstances."
Her topic for the evening covered changes made through law and the relationship between law and citizenship. It was quite thought-provoking. Prior to her lecture, I always thought that "the law is the law", that it's written in stone, and that people had no say in what was handed down. Dr. Brown-Nagin's research has given her a different perspective.
After establishing a definition for law and change, she explained the difference between statutes such as the Civil Rights Act of 1964 and Title 9 (which leveled the playing field for women in education and was derived through the legislative process). She stated that society seemed to accept or adjust to statutes-based change more easily than court-based change, where the Constitution is interpreted with regard to social issues. She also stated that change through courts seemed to inspire more social controversy and gave examples of why this is. While many view the courts as inaccessible and unaccountable to the public, Dr. Brown-Nagin contends that, in a historical context of controversial cases, the high courts were always in conversation with the public and legislators. "There is a space for citizen input".
With a number of social issues to choose from, she chose education reform as a platform for her discussion. She stated, "Besides, I know you didn't think that I was going to talk about abortion", drawing a chuckle from the audience.
She presented several education reform cases that demonstrated the impact of those cases on local people and how local input, support or rejection, influenced the implementation of the law in various states. In many cases, it took more than a Supreme Court decision for change to take place. In some cases change was accomplished through legislative or executive action. In other cases change came about through peaceful protest or the violence that sought to thwart the social change demanded by the Civil Rights Movement. That violence shaped public opinion and that put pressure on Congress to pass the Civil Rights Act of 1964. This is ultimately how the 1954 decision of Brown vs. The Board of Education was finally enforced, more than ten years later in some states.
In her closing remarks, Dr. Brown-Nagin left us with the idea that "When we think about the law, we really need to think about ourselves." And then finally she posed the pressing question, "How do we respond to the opportunity that we're given in a democracy"?
George

Ligon

,

Jr

. is a Greenwood resident, artist photographer, and wedding photographer. He has family roots here, where his grandparents made their home for many years. He grew up in New York City, where he enjoyed a career as a teacher and administrator in city schools. New York is also where he began his artistic endeavors. He has recently exhibited a collection at The Arts Center in Uptown Greenwood, and resides with his wife, Cynthia, also a former educator. Mr.

Ligon

graciously accepted this writing assignment for Greenwood Times and it is his first published written work.