Holiday Ham
This recipe fills the house with a tantalizing aroma, and conjures images of old fashioned Christmas traditions. It takes a little pampering, but the result is well worth it… a scrumptious and colorful presentation for a holiday gathering.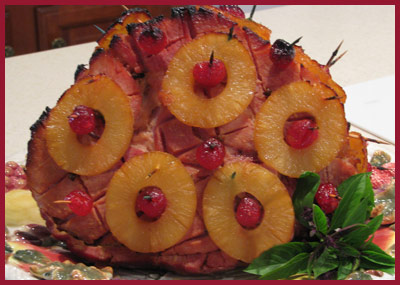 1 shank or butt portion smoked bone-in Virginia ham (10 - 14 pounds)
4 cups pineapple juice
1" piece fresh ginger, peeled and sliced
4 cloves garlic, peeled and smashed
12-16 whole cloves
¼ cup Dijon mustard
1 cup light-brown sugar
About 10 pineapple rings
About 10 maraschino cherries
Combine the pineapple juice, ginger and garlic in a saucepan. Bring to a boil, reduce the heat to medium-low and simmer 25 minutes, reducing the liquid by half (to 2 cups). Strain and reserve.
Preheat the oven to 350 degrees.
Trim the rind and all but ¼ inch of fat from the surface of the ham. With a sharp knife, score a diamond pattern and insert the cloves at the crossed points of the diamonds.
Put the ham into a shallow baking pan. Brush the mustard all over. Pat the sugar evenly over the ham.
Decoratively arrange the pineapple rings with cherries in the center, securing both with toothpicks. Pour the reduced pineapple juice into the bottom of the pan and place in the oven.
Bake for 1 ½ hours, basting every fifteen minutes with the pineapple juice.
Place the ham on a serving platter and let rest for fifteen minutes. Carve into thin slices and serve warm with pan sauce alongside. Remove the pineapple slices and cherries as you carve and serve them with the ham.
Hot Artichoke Dip
This hot appetizer is quick, easy, and delicious. You can prepare it ahead and heat it just before company arrives.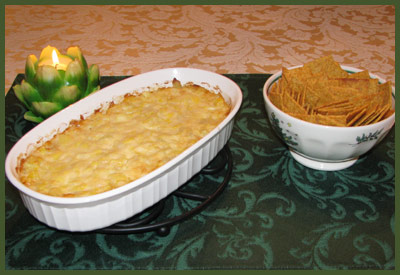 1 cup mayonnaise
1 cup fresh grated parmesan cheese
1 can artichoke hearts (14 oz), packed in water, drained well and coarsely chopped
Mix ingredients well and bake in a 1 liter dish at 325 degrees for 20 minutes. If you make it ahead, transfer it to your baking dish just before cooking, so you can give it a quick stir before pouring. Serve with your favorite crackers, or thin slices of French bread.
Fish Foil Packets
December is a busy time, and sometimes family meal planning turns instead into a trip to the drive thru. When you want to plan a quick meal that is both elegant and nutritious, turn on your favorite holiday music and try this recipe. Cleanup is simple, and you'll still have plenty of energy to wrap presents after dinner.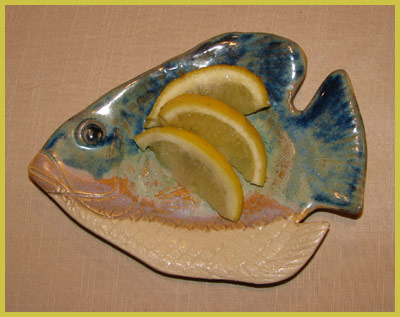 Prep time: 15 minutes Cook time: 15 minutes
6 fish fillets (about 5 oz. each)
Salt and pepper, sprinkle each
3 shallots
3 carrots
3 zucchini
1 red pepper, diced
12 slices lemon
½ tablespoon olive oil per fillet
2 tablespoons white wine per fillet
Preheat oven to 425 degrees.
Place each fillet in a square of aluminum foil (large enough to loosely tent the fish and veggies after folding down).
Cut the carrots, zucchini, and shallots into thin slices and arrange over the fish fillets. Sprinkle with salt and pepper and divide the chopped red pepper over each. Top with two thin slices of lemon.
Pull up sides of foil so that liquid will not run out and add the olive oil and white wine, drizzling it up and down the fish. Pull in sides of foil and fold down from the top so that packet contents are completely enclosed. Place wrapped packets on a shallow baking pan (jelly roll), and bake for fifteen minutes.
When cooked, gently slide the packet contents onto serving plates, reserving liquid in foil. Serve with white or yellow rice, and pour the reserved liquid over the rice.
Baked Oatmeal
This oatmeal recipe is a delicious comfort food and a nice break from traditional oatmeal. It makes a hearty breakfast during the winter, and for Christmas morning too. You can prepare it the night before and take it out of the fridge in the morning for baking. It's good plain or with a favorite fruit topping.
1½ cup
½ cup
1½ cup
½

tsp


½ cup
2
¼ cup
1½

tsp


¾

tsp


½ cup
Milk
Brown sugar
Oats
Salt
Chopped walnuts or pecans
Eggs
Vegetable oil
Baking powder
Cinnamon
Raisins (optional)
In a large bowl, mix together milk and eggs. Stir in brown sugar and oil. Add all remaining ingredients and stir well.
Turn into buttered 1½ quart baking dish. Refrigerate overnight.
Remove from refrigerator in the morning while the oven heats to 350. Bake for 35-45 minutes or until top is brown and set. Serve hot or warm with milk, cream, or maple syrup.